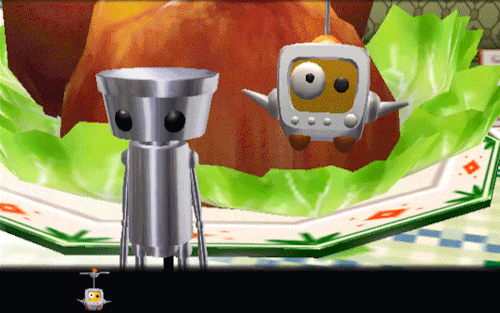 Chibi-Robo: Plug Into Adventure! centers around the household of the Sanderson family. The Sandersons are plagued with financial troubles, thanks to Mr. Sanderson's lack of job and love of purchasing toys. When his daughter's 8th birthday comes around, he buys her the new Chibi-Robo, a small robot whose goal is to bring happiness to everyone.
However, this purchase puts a dent in their accounts, which causes Mrs. Sanderson to become upset with her husband for his reckless spending (although she bears no ill will towards Cheebo herself). While they all still celebrate Jenny's birthday together, this causes a rift in their relationship that results in Mr. Sanderson being banished to the couch. As it is Chibi-Robo's job to make everyone happy, they and Telly set out to explore the house in search of solutions.
Along the way, they find that many of the toys in the house can talk, and they come alive at night. These toys impart onto them the history of the Sanderson family-- particularly, that Chibi-Robo is not the first robot to worm their way into the Sandersons' hearts. Before Chibi, there was Giga-Robo: who, as their name would imply, was much larger than Cheebo. Unfortunately, Giga-Robo's strain on the energy bill caused the Sandersons a great deal of financial strife. Knowing this, the large robot decided to shut down, and their lifeless body remained in the basement for many years.
The two newcomers decide that reviving Giga-Robo would certainly bring the most happiness to everyone, and together they start to gather energy to fill up Giga-Robo's battery once more. However, the house comes under attack by mysterious little robots called "Spydorz", which seem hell-bent on attacking Chibi-Robos everywhere. Chibi-Robo and Telly have a lot on their plate, but they will persevere! For the happiness of the family!